Old Highway 131 Trail
This information is a public record of the 2023 NRT application and may be out of date if it has not been updated by a trail manager --
check with the trail manager for updated details before visiting.
Old Highway 131 Trail

State

Frontcountry Trail

Length
7.24 miles
Elevation Gain
--
Route Type
out & back
Old Highway 131 Trail is a 4.5 mile shared-use trail at the heart of the Kickapoo Valley Reserve trail system. Formerly a highway connecting small, lumber and farming-dependent communities along the Kickapoo River, today the paved asphalt trail is designated for non-motorized use and connects to a wider trail system of over 50 miles of natural surface trails within the Kickapoo Valley Reserve, a nature preserve, under co-management by the State of Wisconsin and the Ho-Chunk Nation. Located in the Driftless Area Ecoregion, the trail is open seasonally to bikes, equestrians, hikers, snowshoers and cross-country skiers and is a popular destination for outdoor enthusiasts.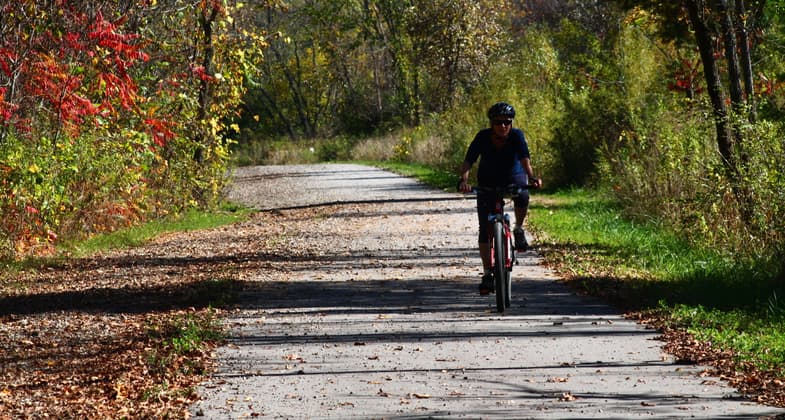 .
Upload a Photo
Location: Old Highway 131 Trail is on the Kickapoo Valley Reserve located in the Driftless area of Southwest Wisconsin, near the Village of La Farge.
States: Wisconsin
Counties: Vernon
Cities/Townships: Stark Township, Whitestown Township
Located in the heart of the Driftless region, the Kickapoo Valley Reserve is an ecologically significant landscape of Wisconsin. The Kickapoo Valley is rich in natural and cultural resources and the Kickapoo Valley Reserve is a protected, maintained and managed parcel of public property that allows access for all to enjoy. Old Highway 131 Trail is the main trail within the Kickapoo Valley Reserve trail system. Old Highway 131 Trail traverses the Kickapoo River Valley for 4.5 miles it allows access to an extensive trail system, for outdoor enthusiasts who enjoy non-motorized, silent sport trail use. A historically and culturally significant throughway, the Old Highway 131 Trail is a statement of resilience, community, and resolve. Located on the ancestral homelands of First Nations people, including the Hoocak (Ho-Chunk) Nation, the earliest platted township maps show the corridor already in use for traversing the river valley. To early European settlers, the now Old Hwy 131 Trail was once the connection between small, lumber and farming-dependent communities along the Kickapoo River in Southwest Wisconsin. It was formed as a Wisconsin State Highway in 1923.
In the late 1960's, the federal government began a flood control project on the Kickapoo River; 149 farms were purchased to make way for a dam and reservoir. The landowners were removed, farm buildings destroyed or relocated, and the first phase of construction begun. A 1700-acre lake surrounded by 8600 acres of recreational land would be developed, including moving State Highway 131 to higher ground.
However, after several starts and stops the project was halted in 1973 for environmental and economic reasons. Controversial from the start, people in the area were understandably outraged that they had sacrificed so much and saw no benefit.
For 25 years, the land sat idle, steel truss highway bridges rusting and their decks rotting, while citizens and governments wrestled with what was next.
In 1996, federal legislation directed the US Army Corps of Engineers to transfer up to 1,200 acres to the Bureau of Indian Affairs in trust for the Ho-Chunk Nation and the remaining 7,369 acres to the State of Wisconsin. Ownership transfer was completed December 28, 2000. The Kickapoo Valley Reserve (KVR) was born.
Today, coming full circle, the Old Hwy 131 Trail exists as a green-way for non-motorized public use; a 10-foot-wide asphalt paved trail designated for foot and bicycle traffic, with an 8 ft natural surface bridle-path, adjacent. The trail lends itself to all abilities, children learning to ride a bike, gentle cross-country skiing, exercise, star gazing and just soaking up nature in a secluded setting. It serves as a main access trail to over 50 miles of natural surface, shared use trails within the KVR. Sections of trail have been refurbished cooperatively by State of Wisconsin and Ho-Chunk Nation. Three wooden trail bridges over the Kickapoo River have been installed. One existing, Warren Steel Truss bridge has been refurbished and is now a registered historical site in the Wisconsin Historical Society.
The Kickapoo Valley Reserve uniquely operates under the direction of an 11-member local citizens board, the Kickapoo Reserve Management (KRM) Board. Management plans and projects are detailed and developed by KVR staff, and a citizen-based Land Management Committee where recommendations are formed. Finally, these plans and projects are presented to the KRM Board for approval. Maintenance and management practices on the Old Hwy 131 Trail are overseen and carried out by KVR staff, with assistance from local volunteers and contractors. Reports and debriefs are presented back to the KRM Board.
The Old Hwy 131 Trail is most recently slated for a stream bank stabilization project. The Kickapoo River flows adjacent to the trail in several locations. Flooding events have weakened the riverbank near the trail corridor, requiring stream bank restoration. The planning process for this project and others, involves multiple agencies, county, state, and tribal permits, a bid process for construction and hours of planning and record keeping.
Maintenance on Old Highway 131 trail is ongoing. In the summer season, weekly mowing of the bridle path and monitoring user impacts is the main focus. Removal of hazard trees and invasive species from along the trail corridor are conducted as needed. Old 131 Trail is also maintained as a pollinator corridor. Crews plant, monitor and tend pollinator habitats along Old 131 Trail.
Uniform way finding signage on Old Hwy 131 Trail includes property maps and regulations. Signage, combined with online and print maps, aid users in enjoying the trail safely. KVR enforcement staff work closely with local emergency services to create emergency plans and conduct training exercises that include and utilize the trail. The KVR has enforcement staff to uphold safety of its users and protection of the natural features of the Reserve. Enforcement officers are fully qualified and certified police officers by the State of Wisconsin Department of Justice.
Public use of the trail is fee based. Users are required to obtain a property specific day or annual permit. Fees collected are used to aid in maintenance and management of the trail. When applicable, grants and donations are sought to bolster projects.
Old Hwy 131 Trail is used for a variety of events and organized activities. The KVR holds an annual triathlon fundraiser that utilizes the trail as part of the racecourse. KVR education programs, for all ages, commonly use the trail in their curriculum. Each July 4th, the KVR hosts a well-attended vehicle tour of the trail. Interpretative signage is temporarily placed along the tour and is accompanied by a booklet on the history of the "Old Hwy."
The Old Hwy 131 Trail is an artery to the heart of the Kickapoo Valley Reserve. It provides invaluable access to nature and connects the community with its rich history.
Accessibility Information
No text provided.
Allowed Uses:
Bicycling
Dogs, off leash
Equestrian
Hiking/Walking
Snow, cross-country skiing
Trail running
Other Activities
Fishing
Heritage and history
Hunting
Wildlife viewing / observation
More Details
Elevation (low): 809
Elevation (high): 876
Elevation (cumulative): --

---

Part of a Trail System? No
State Designations: Bridge 13, located on Old Highway 131 Trail is listed in the Wisconsin State Historical Society
Surface (primary): Paved
Surfaces (additional): Boardwalk, Grass or Vegetation, Rock, crushed, Snow or ice, Soil

---

Tread Width (average): 216"
Tread Width (minimum): 127
Running length (minimum): --

---

Tread Grade (average, percent): 3
Tread Grade (maximum): 9
Running length (maximum): --

---

Cross-slope (average, percent): 3
Cross-slope (maximum): --
Running length (maximum): --
Certified as an NRT
Jun 3, 2023
Suggest an Edit