Iron Hills Trail System
This information is a public record of the 2023 NRT application and may be out of date if it has not been updated by a trail manager --
check with the trail manager for updated details before visiting.
Iron Hills Trail System

Bureau of Land Management

Backcountry Trail

Length
29 miles
Elevation Gain
--
Route Type
Loop
What Started as a 4.5-mile loop has transformed into a 29-mile trail system that has placed Cedar City, Utah on the map as a premier mountain bike destination. The Iron Hills Trail System welcomes non-motorized users of all kinds. With 14 trails to choose from and access to each from the city's non-motorized paved path network, trail users can conveniently choose either an all-day or after work adventure whenever they please.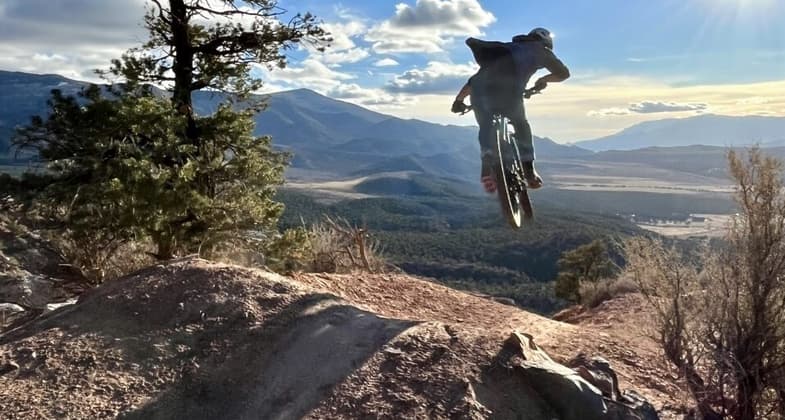 .
Upload a Photo
Location: Just off of I-15 in Cedar City, Utah
States: Utah
Counties: Iron
Cities/Townships: Cedar City
What started as only a 4.5-mile loop has transformed into a 29-mile, 14 trail system that has placed Cedar City, Utah on the map as a premier mountain bike destination. Nestled in Color Country between beautiful Zion and Bryce Canyon National Parks, Iron Hills Trail System welcomes mountain bikers, hikers, trail runners, wildlife viewers, and even has 4 miles of trail designated for equestrian use. The development of this system was achieved through an effort involving much of the community that has served as a model for communities and agencies to follow. Iron Hills was planned, constructed, and is being maintained through a collaborative effort involving the Bureau of Land Management, the City of Cedar City, Iron County, The International Mountain Bicycling Association, Southern Utah University Interagency Internship Cooperative, the American Conservation Experience, the local trail club (Iron Trailcraft), and community volunteers. The Bureau of Land Management continues to manage the trail system and works with the local trail club that organizes and carries out trail maintenance efforts. Public safety and emergency response is managed by the experienced volunteer staff from the Iron County Search and Rescue.
Trails in this system were truly built for all levels. Trail users can find everything from easy beginner trails to double black diamond-rated advanced trails. Not only was something for all cycling ability levels included in the system, but the trails were also purpose-built so that bikers of different experience levels could ride the same trail while both enjoying the experience. Many of the trails allow the novice rider to cruise down the groomed rolling center of the tread while the advanced rider on the same trail can take advantage of jumps, berms, or technical rock features strategically placed lining the trails. This aspect of trail design has promoted family and multi-generational use of the trail system. For those looking for a fast and fun downhill ride, individuals can organize a shuttle or pedal to the top of the "C†on the mountain that overlooks the entire city. From there they can embark on a 2,200-foot descent over almost 8 miles of beautiful terrain. A descent of this size can't currently be found anywhere close in the surrounding region, including at some of the lift-served ski resort bike parks.
The trail system disperses users through five different connected trailheads and contains amenities such as access to a 13-site ride-in or drive-in campground, a natural and man-made feature skills track, bathrooms, running water and flush toilets at Southview Trailhead, an outdoor changing station, and two different bike repair stands. Every mile of trail in this system can be accessed from Cedar City's non-motorized paved path network, allowing some individuals living or lodging in town the ability to access the trails without ever getting in a vehicle.
The landscape that this trail system exists in is another reason why these professionally built trails remain so unique. Constantly changing terrain types allow riders, runners, or hikers to pass through the changing fall leaves at elevations over 8,000ft, take in the amazing scents throughout dense pinyon-juniper forests, traverse red rock cliffs, and even maneuver your way through ancient lava fields all in the same outing. Iron Hills Trail System has become one of the most supported and appreciated recreation sites in Iron County. These trails now host multiple foot races of distances from 5k to 50k ultra-endurance, they remain a favorite and frequent location for community organized mountain bike rides, and they serve as a practice and training site for the local Utah High School Cycling League team, the Iron Giants.
Accessibility Information
No text provided.
Allowed Uses:
Bicycling
Dogs, on leash
Hiking/Walking
Other Activities
Camping
Heritage and history
Snow, snow play general
More Details
Elevation (low): 6006
Elevation (high): 8227
Elevation (cumulative): --

---

Part of a Trail System? No
Surface (primary): Soil
Surfaces (additional): Rock, boulders, Sand

---

Tread Width (average): 24"
Tread Width (minimum): 12
Running length (minimum): --

---

Tread Grade (average, percent): 8
Tread Grade (maximum): 14
Running length (maximum): --

---

Cross-slope (average, percent): 3
Cross-slope (maximum): --
Running length (maximum): --
Certified as an NRT
Jun 3, 2023
Suggest an Edit