Harris Greenway Trail
This information is a public record of the 2023 NRT application and may be out of date if it has not been updated by a trail manager --
check with the trail manager for updated details before visiting.
Harris Greenway Trail

City, Town, or County

Frontcountry Trail

Length
5.7 miles
Elevation Gain
--
Route Type
out & back
Harris Greenway Trail is a 5.7-mile paved multiuse trail with a 760-foot boardwalk that connects Tribble Mill Park and Harbins Park, while also providing access to nearby residences, schools, and trails, including the Harbins Park Trail System (already a National Recreation Trail). The trail is named after Lloyd Harris, one of many visionaries who helped lead the way to conserve greenspace in Gwinnett and establish our world-class system of parks and public lands.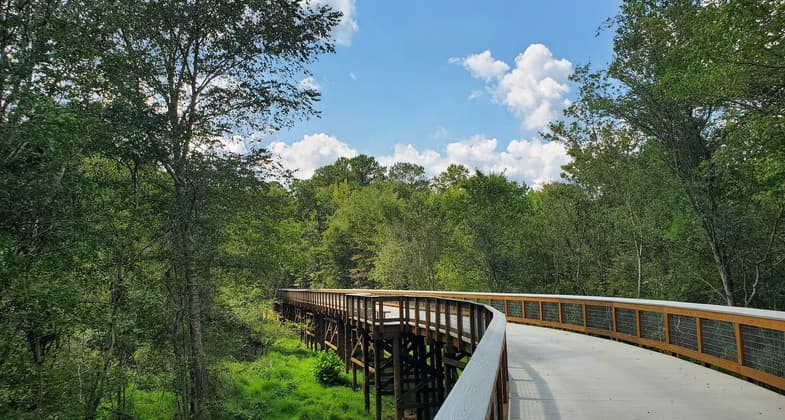 .
Upload a Photo
Location: Trail connection between Tribble Mill Park and Harbins Park, as well as the surrounding schools and residences, located in Dacula, GA, with a trailhead at Chandler Road that provides access to the trail and Trible Mill Park from the southwest.
States: Georgia
Counties: Gwinnett
Cities/Townships: Lawrenceville, Dacula
In 2014 and 2015, Gwinnett County received Recreational Trails Program funding for the Tribble Mill Greenway connection, now known as the Harris Greenway Trail. As the engineering and design services for the Harris Greenway Trail was being completed, Gwinnett County recognized the need for a high-quality connected network of multiuse paths and greenways for the benefit of its residents and employees. The Gwinnett Countywide Trails Master Plan details trail priorities and provides guidance on trail networks, typologies, and branding. It was developed between 2017 and 2018-- adopted in April 2018-- and began implementation in 2019.
Located in the eastern portion of Gwinnett County, Harris Greenway Trail, completed in 2022, is the first trail to be built since Gwinnett County adopted its Countywide Trails Master Plan by the Board of Commissioners. The Harris Greenway Trail is named after Lloyd Harris, one of many visionaries who helped lead the efforts to conserve greenspace in Gwinnett in the 1980s. Mr. Harris' efforts laid the groundwork for what is now a world-class system of parks, public lands, and recreation facilities for residents to enjoy. The preservation of public lands and establishment of parks are vital to both the environment through the conservation and management of wildlife, as well as human well-being by improving physical and mental health, creating economic benefits, and preserving cultural and historical heritage.
The Harris Greenway is a 5.7-mile paved multiuse trail with a 760-foot boardwalk connecting Tribble Mill Park to Harbins Park. The greenway also provides bicycle and pedestrian access to the surrounding parks and neighborhoods, as well as to Archer High School, helping to create vibrantly connected experiences for Gwinnett residents, employees, and visitors. The greenway has extensive high-quality signage and wayfinding system standards that are defined by the Gwinnett Trails Wayfinding and Signage Plan, in addition to mile markers every quarter mile that are informative to all people utilizing the trail. At the trailhead, there is lighted parking, picnic tables, and a restroom with dedicated trailhead signage. Additionally, there are many safety features, such as help locators every quarter mile. The help locators are red metal powder-coated plaques with white etched lettering displaying a four-digit number that is associated with a point location (i.e., latitude and longitude) affixed onto signage features along the trail. These locations help trail users communicate their specific location to Gwinnett County emergency medical services (EMS) dispatchers during 911 calls.
The greenway uniquely consists of two trail typologies: off-road and side path.
(1) The off-road sections are 12 to 14 feet in width for high usage capacity and the ability for emergency vehicles to access the trails in the case of an emergency. Additionally, the off-road sections are constructed with concrete, as well as timber bridges and boardwalks around the environmentally sensitive areas and are not located along a roadway and instead follow their own alignment.
(2) The side path sections follow the alignment of New Hope Road with a buffer separation in between. This trail type is 12 to 14 feet in width, constructed with asphalt, and has signalized crossings at roadway intersections.
Both Tribble Mill Park and Harbins Park, connected by the Harris Greenway, offer a multiuse trail system with pavilions, shelters, restrooms, and other recreational facilities. Tribble Mill has 3.4 miles of paved trails looping around Ozora Lake inside the 713-acre park, providing a scenic experience through its forested and lakeside areas. Fishing and boating are permitted on the lake, and a large playground area is located on the eastern side. Harbins Park includes 4.3 miles of paved trails inside an 1,184-acre Conservation District Park and an additional 1.5 miles inside the 669-acre active park area. In addition to the paved trails, Harbins Park boasts 24.5 miles of natural surface trails that are heavily wooded, providing a variety of outdoor recreation opportunities. The Harris Greenway Trail provides a unique experience for residents and visitors by allowing them to easily access both parks and their amenities, creating a more connected trail system.
The Harris Greenway Trail enhances opportunities for trail-based recreation and transportation uses for students, employees, and residents. Exercise and outdoor activity, especially in the presence of nature, can positively impact self-esteem, mood, and long-term mental and physical health.
Accessibility Information
No text provided.
Allowed Uses:
Bicycling
Dogs, on leash
Hiking/Walking
Trail running
Other Activities
Wildlife viewing / observation
Public Contact
Glenn Boorman
Gwinnett County Parks & Recreation
Lawrenceville, GA 30046
[email protected]
•
(770) 822-8873
Contact the trail manager for current maps and visiting details.
More Details
Elevation (low): 797
Elevation (high): 956
Elevation (cumulative): --

---

Part of a Trail System? No
National Designations: None individually. connects to the Harbins Park Trail system, which is already a National Recreation Trail
Surface (primary): Paved
Surfaces (additional): Boardwalk

---

Tread Width (average): 144"
Tread Width (minimum): 127
Running length (minimum): --

---

Tread Grade (average, percent): 5
Tread Grade (maximum): 10
Running length (maximum): --

---

Cross-slope (average, percent): 1
Cross-slope (maximum): --
Running length (maximum): --
Certified as an NRT
Jun 3, 2023
Suggest an Edit