Algonkian Regional Park Sanctuary Trail
This information is a public record of the 2004 NRT application and may be out of date if it has not been updated by a trail manager --
check with the trail manager for updated details before visiting.
Algonkian Regional Park Sanctuary Trail

City, Town, or County

Backcountry Trail

Length
2 miles
Elevation Gain
--
Route Type
out & back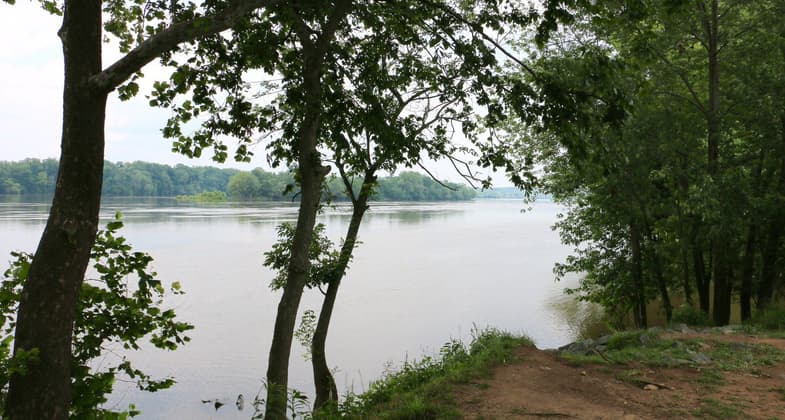 The Potomac River at Algonkian Regional Park. Photo by Jim Northrup Creative Commons.
Upload a Photo
Location: Lowe's Island
States: Virginia
Counties: Loudoun
The Algonkian Regional Park Sanctuary Trail in Sterling, VA is a 2-mile loop trail through a 30+ acre section of wetlands on Lowe's Island adjacent to the Potomac River. This trail is a spur of the multi-jurisdictional Potomac Heritage Trail and will eventually include observation platforms interpretive signage and observation wildlife blinds. The wetlands are a unique part of the Potomac that supports a variety of flora and fauna including Bald Eagles.
Accessibility Information
No text provided.
Allowed Uses:
Hiking/Walking
Other Activities
Wildlife viewing / observation
Public Contact
Jill Vanden Heuvel
Northern Virginia Regional Park Authority
47001 Fairway Dr.
Sterling, VA 20165
[email protected]
•
(703) 450-4655
www.nvrpa.org
Contact the trail manager for current maps and visiting details.
More Details
Elevation (low): --
Elevation (high): --
Elevation (cumulative): --

---

Part of a Trail System? No
Surface (primary): Soil
Surfaces (additional): Soil

---

Tread Width (average): 30"
Tread Width (minimum): --
Running length (minimum): --

---

Tread Grade (average, percent): 5
Tread Grade (maximum): 20
Running length (maximum): --

---

Cross-slope (average, percent): --
Cross-slope (maximum): --
Running length (maximum): --
Certified as an NRT
Jun 1, 2004
Suggest an Edit