Alamosa South Bluff Trail
This information is a public record of the 2007 NRT application and may be out of date if it has not been updated by a trail manager --
check with the trail manager for updated details before visiting.
Alamosa South Bluff Trail

U.S. Fish and Wildlife Service

Frontcountry Trail

Length
1.1 miles
Elevation Gain
--
Route Type
out & back
Located in the Alamosa National Wildlife Refuge, this 1.1-mile greenway offers opportunities to view Sandhill cranes, eagles, and river oxbows while hiking, mountain biking, or just taking a stroll.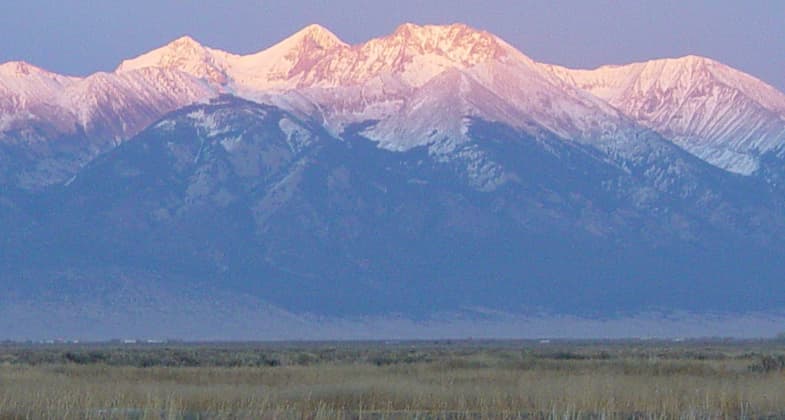 Alamosa South view of Mt. Blanca. Photo by Brian DeVries.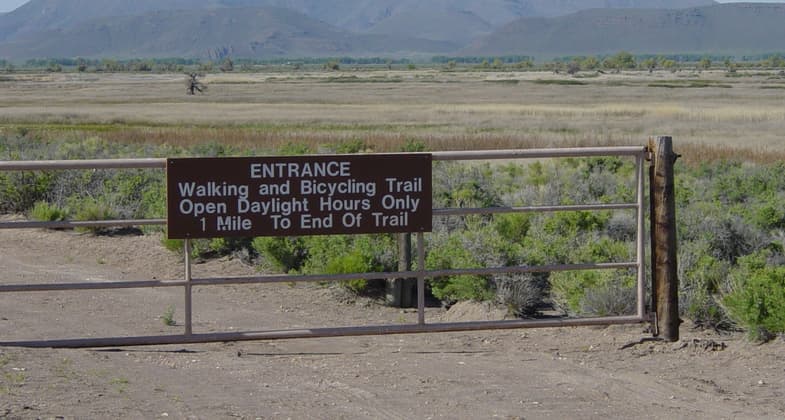 Alamosa South Trail Entrance. Photo by Brian DeVries.
Upload a Photo
Location: At SE edge of Alamosa NWR, SE of Alamosa airport.
States: Colorado
Counties: Alamosa
Alamosa South Bluff Trail is located on the southeast side of the Alamosa National Wildlife Refuge. The Alamosa National Wildlife Refuge is part of the San Luis Valley National Wildlife Refuge Complex. This trail is approximately 1.1 miles of compacted soils and grasses. The activities on the trail include hiking, walking, and bicycling.
This trail is just off of the Hansen's Bluff Road, which one can get a bird's eye view of what the Refuge looks like. From the trail one can see Sandhill cranes, eagles, wetlands, and the river oxbows. In the spring, the bald and golden eagles migrate along the Rio Grande feeding on the winter kill. Along the trail is a good place to see the eagles as they pass through.
The trail is maintained by the refuge staff and is used by a variety of visitors, from students getting out of the classroom to get their hands dirty to the average Joe wanting to get out of the house for the day.
Accessibility Information
No text provided.
Allowed Uses:
Hiking/Walking
Other Activities
Wildlife viewing / observation
More Details
Elevation (low): 7514
Elevation (high): 7521
Elevation (cumulative): --

---

Part of a Trail System? No
Surface (primary): Soil
Surfaces (additional): --

---

Tread Width (average): 116"
Tread Width (minimum): --
Running length (minimum): --

---

Tread Grade (average, percent): 1
Tread Grade (maximum): 1
Running length (maximum): --

---

Cross-slope (average, percent): --
Cross-slope (maximum): --
Running length (maximum): --
Certified as an NRT
May 31, 2007
Suggest an Edit