Acker Divide Trail
This information is a public record of the 1982 NRT application and may be out of date if it has not been updated by a trail manager --
check with the trail manager for updated details before visiting.
Acker Divide Trail

USDA Forest Service

Backcountry Trail

Length
5.4 miles
Elevation Gain
--
Route Type
out & back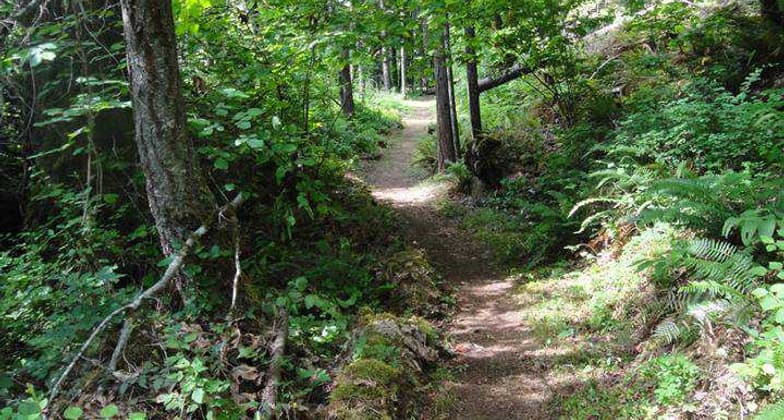 Photo by USFS.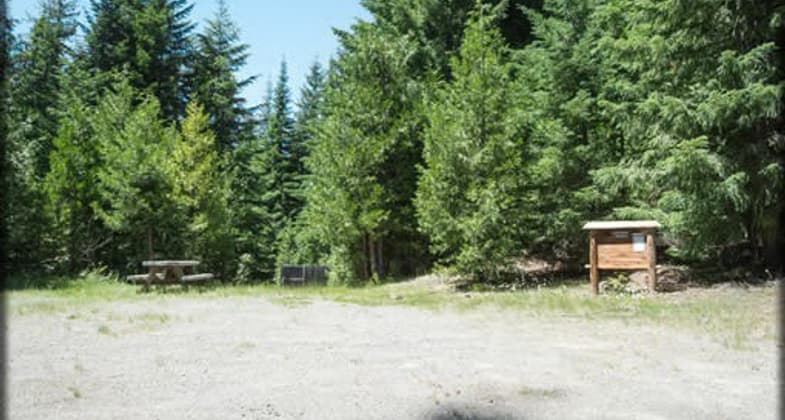 Acker Divide Trailhead. Photo by USFS.
Upload a Photo
Location: Douglas County; 32 miles NE of Tiller Ranger Station of the Umpqua National Forest; connects Forest Rd. 2900-550 to Pacific Crest NST.
States: Oregon
Counties: Douglas
No facilities other than parking areas are available at the trailheads.
A developed camping site exists at Cripple Camp Shelter. This trail shelter was built by the Civilian Conservation Corps in the 1930's and is typical of the rustic construction style of the CCC. Undeveloped camping spots exist at Grasshopper Meadows where there is a spring, and at any of the subalpine meadows under Hershberger Mountain.
There are four connecting trails. Grasshopper Trail #1574, Hershberger Mountain Trail #1435, Pup Prairie Trail #1434, and Rogue-Umpqua Divide National Recreation Trail #1470.
The trail passes through park-like stands of tremendous old-growth timber on a flat grade for one mile, and then comes into a large, flat subalpine meadow called Grasshopper Meadows. The Grasshopper Trail #1574 joins the Acker Divide Trail from the north at this meadow. At the meadow the trail turns to the southeast and follows a flat grade under Highrock Mountain. Hershberger Mountain Trail #1435 joins from the south along this segment of the trail.
The Hershberger Mountain Trail does not lead to Hershberger Mountain; it is a short spur trail leading to Road 2974-400. Cripple Camp lies about 0.1 miles past the Hershberger Mountain Trail junction on the Acker Divide Trail. Just beyond Cripple Camp is Toad Lake, a marshy opening which provides good opportunities for wildlife observation. Beyond Toad Lake the Pup Prairie Trail #1434 joins from the south. At this junction and to the north 100 yards is a large old-growth Douglas-fir measuring 10 feet 6 inches in diameter. From here the trail begins a moderate to steep climb up the side of Hershberger Mountain. It passes through several large subalpine meadows before terminating at the junction of Road 5415-530 and the Rogue-Umpqua Divide National Recreation Trail #1470. If the trail user takes Road 6515-530 for 0.5 miles uphill from this junction to Hershberger Lookout the reward will be a spectacular view of the Southern Oregon Cascades, the Rogue and Umpqua River drainages, the Siskiyou Mountains, and Mount Shasta in Northern California.
Accessibility Information
No text provided.
Allowed Uses:
Hiking/Walking
Public Contact
Umpqua National Forest, Tiller Ranger District
27812 Tiller Trail Highway
Tiller, OR 97484
(541) 825-3100
Contact the trail manager for current maps and visiting details.
More Details
Elevation (low): --
Elevation (high): --
Elevation (cumulative): --

---

Part of a Trail System? No
Surface (primary): Soil
Surfaces (additional): --

---

Tread Width (average): --"
Tread Width (minimum): --
Running length (minimum): --

---

Tread Grade (average, percent): --
Tread Grade (maximum):
Running length (maximum): --

---

Cross-slope (average, percent): --
Cross-slope (maximum): --
Running length (maximum): --
Certified as an NRT
Mar 28, 1982
Suggest an Edit