6 to 10 Trail
This information is a public record of the 2009 NRT application and may be out of date if it has not been updated by a trail manager --
check with the trail manager for updated details before visiting.
6 to 10 Trail

National Park Service

Backcountry Trail

Frontcountry Trail

Rail Trail

Length
7.85 miles
Elevation Gain
--
Route Type
out & back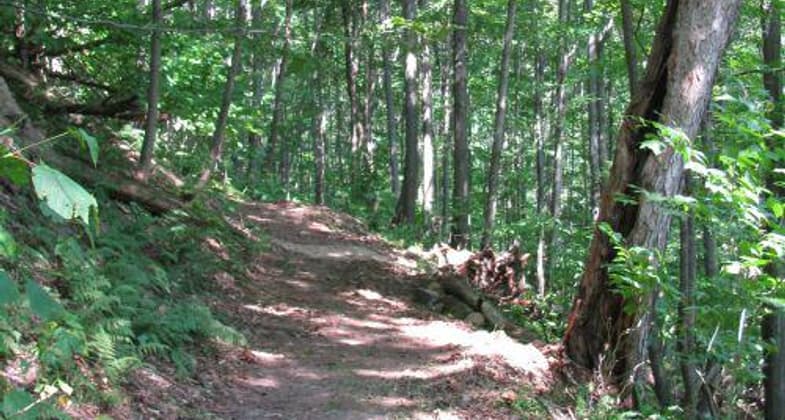 The hiking section of the 6-To-Ten Trail climbs through the wooded Allegheny Front.
Upload a Photo
Location: At the Allegheny Portage Railroad NHS west of Altoona, PA
States: Pennsylvania
Counties: Blair
Cities/Townships: Allegheny, Juniata Townships
The 6 to 10 trail follows the remnants of the Allegheny Portage Railroad. The railroad, an engineering landmark, lifted canal boats on the Allegheny Mountains in the 1830s, 1840s, and 1850s. This trail allows the visitor to connect to the difficult terrain traversed by the railroad.
The 6 to 10 Trail climbs (or descends) almost 600 feet along the path of the historic Allegheny Portage Railroad on the eastern side of the Allegheny Mountains. From the 1830s to the 1850s, the Allegheny Portage was an engineering marvel that raised and lowered canal boats over the mountains using a series of ten incline planes and stationary steam engines. The boats, loaded on rail cars, were pulled by mules or locomotives on level stretches between the inclines.
The trail has two distinct segments: a 3.75-mile hiking-only section with some relatively steep grades and a 4.1-mile rail-trail section built on the abandoned corridor of the New Portage Railroad.
You'll find cut stone culverts and other remains of the Allegheny Portage Railroad along the path of the 6 to 10 Trail while detailed interpretive materials can be found at the Allegheny Portage Visitors Center and the Engine House 6 Exhibit Shelter.
The 6 to 10 Trail is a component of the Pittsburgh to Harrisburg Main Line Canal Greenway, Pennsylvania's designated Millennium Legacy Trail.
Accessibility Information
No text provided.
Allowed Uses:
Bicycling
Dogs, on leash
Hiking/Walking
Snow, cross-country skiing
Other Activities
Heritage and history
Snow, snow play general
Wildlife viewing / observation
Public Contact
Keith Newlin
Allegheny Portage Railroad National Historic Site
110 Federal Park Drive
Gallitzin, PA 16641
[email protected]
•
(814) 886-6121
www.nps.gov/alpo
Contact the trail manager for current maps and visiting details.
More Details
Elevation (low): 1860
Elevation (high): 2430
Elevation (cumulative): --

---

Part of a Trail System? No
National Designations: Millenium Legacy
Surface (primary): Rock, crushed
Surfaces (additional): Grass or Vegetation, Rock, boulders, Rock, crushed, Soil

---

Tread Width (average): 96"
Tread Width (minimum): --
Running length (minimum): --

---

Tread Grade (average, percent): 5
Tread Grade (maximum): 20
Running length (maximum): --

---

Cross-slope (average, percent): 0
Cross-slope (maximum): --
Running length (maximum): --
Certified as an NRT
May 25, 2009
Suggest an Edit